Urban Visions - Entertainment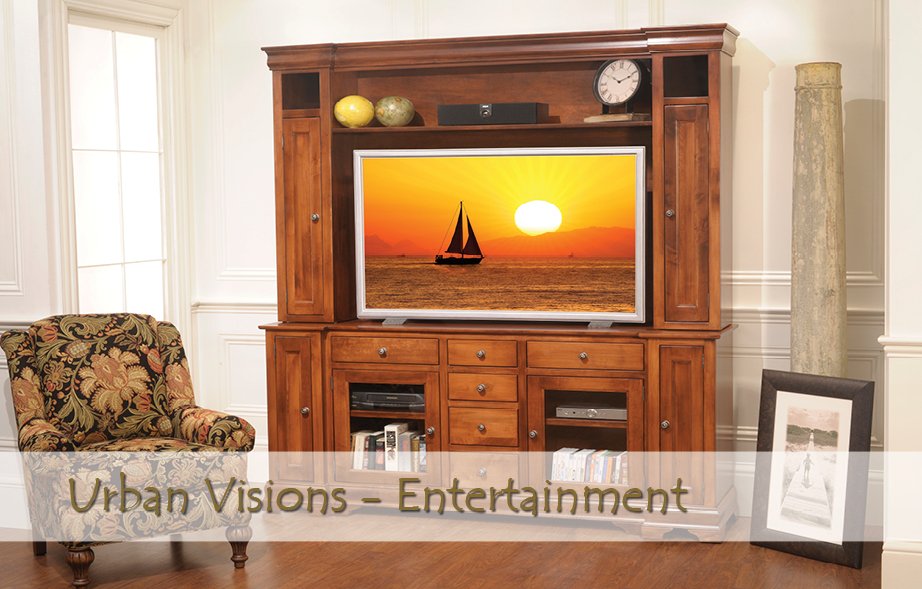 Urban Visions - Entertainment
This temporary page will give you an overview of our collection and its capabilities. When completed we want to give you advice to purchase the correct piece to fit in your room, and turn your family room into your private media center. We feature styles and sizes to fit any need from a smaller tv screen to a our Transformation category which can accomodate most TVs up to 80- inches, custom sizes available. If you have the newest 102 inch screen, don't fret, let us custom design a perfect size for your viewing needs. At Urban Collections ,we give you exactly what you want.
We feel we have the most complete entertainment collection available that does what Urban Collections does best, we give you exactly what you want. With Media coming down in price, around the country families are turning that basement or family room into their own personal Media rooms. We features styles and sizes to fit any need from 36 inch to 80 inch screens, in your wood species and in your color or stain.
Transformations
The Transformations Collection covers every viewing vantage point our media savvy consumer needs. From our low 24 inch cabinets in a variety of lengths, to our 30 inch high centers that come as 85 inch centers with a deck to fit most 65 inch sizes, to two pier wall configurations that are almost limitless for that new 80 inch size. If our sizing does not fit your needs custom sizing is readily available. We want to make this room a center in your home that will bring your families and friends together spending hours enjoying the latest in entertainment or gaming. At Urban Collection we realize your home is your center away from the confusion our modern schedules bring. Let us give you exactly what you want.
In our 55 inch size any Tranformations Group can be ordered in any of the three configurations.
Galleria Collection
Galleria features three of our groups with our richest wood working from the Urban Collections. "Wrightsville , Bordeaux and Hudson" each group features it's own unique style from the coastal relaxed look of Wrightsville to the Rich formal curves if Bordeaux, to the retro 40's curves of the Hudson, each group features four sizes all with base units 36 inches tall and with four sizes of width to fill every entertainment need ; 48,55,70 and 85 inch bases with the option of wood doors or glass doors. Each style in the Galleria collection has the same options and features a deck for the three 85 inch bases. If you don't see something here , we can custom size your piece to your perfect specifications.
Television Stands for Flat Screen TV's and HDTV's
The chances are pretty good that if you are buying a new TV stand, it is probably for an HDTV flat screen. We have created this handy chart to help you find the minimum width recommended for your TV stand. This will help to ensure that your TV isn't wider than your stand, which can be a safety hazard. It is important to point out that all TVs have different bezel (frame) sizes which means that we cannot predict the overall width of your TV with complete accuracy.
How to properly measure the width of your TV Stand
Before using this chart, remember that there are two foolproof ways to find the actual width of your TV. The first is to physically measure it with a tape measure and the second is to consult the TV manufacturer's website for full specification details.
Disclaimer
We have created this chart for demonstration purposes to assist you when buying a TV Stand. It is important to note that we cannot accurately assume the size of the Bezel around your screen, as these vary by manufacturer and model.
HDTV (16:9) TV Stand Width Chart
| | |
| --- | --- |
| Television Dimensions | Screen Width Including Bezel |
| 30 inch TV | 26.1 inches + Bezel |
| 32 inch TV | 27.9 inches + Bezel |
| 34 inch TV | 29.6 inches + Bezel |
| 36 inch TV | 31.4 inches + Bezel |
| 38 inch TV | 33.1 inches + Bezel |
| 40 inch TV | 34.9 inches + Bezel |
| 42 inch TV | 36.6 inches + Bezel |
| 44 inch TV | 38.3 inches + Bezel |
| 46 inch TV | 40.1 inches + Bezel |
| 48 inch TV | 41.8 inches + Bezel |
| 50 inch TV | 43.6 inches + Bezel |
| 52 inch TV | 45.3 inches + Bezel |
| 54 inch TV | 47.1 inches + Bezel |
| 56 inch TV | 48.8 inches + Bezel |
| 58 inch TV | 50.6 inches + Bezel |
| 60 inch TV | 52.3 inches + Bezel |
| 62 inch TV | 54 inches + Bezel |
| 64 inch TV | 55.8 inches + Bezel |
| 66 inch TV | 57.5 inches + Bezel |
| 68 inch TV | 59.3 inches + Bezel |
| 70 inch TV | 61 inches + Bezel |
| 72 inch TV | 62.8 inches + Bezel |
| 74 inch TV | 64.5 inches + Bezel |
| 76 inch TV | 66.2 inches + Bezel |
| 78 inch TV | 68 inches + Bezel |
| 80 inch TV | 69.7 inches + Bezel |
| 82 inch TV | 71.5 inches + Bezel |